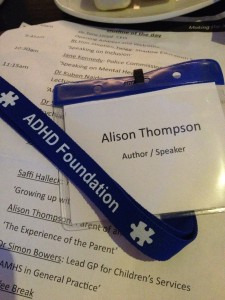 Last week I was honoured to be one of the guest speakers at the ADHD Foundation's conference in Liverpool. Also on the bill was the Right Honourable Stephen Twigg, MP who is Shadow Secretary for Education. I was interested to hear what Stephen had to say about Labour's attitude towards ADHD and special needs in general, and it all sounded very promising. Among other things, he said there would be greater emphasis on integrating ADHD into mental health services, and that schools would have integrated CAMHS to support children with ADHD, and he suggested that special needs would be focused on a lot more in teacher training, for both new and existing teachers.
Excellent discussion with young people, parents & professionals at the @ADHDFoundation Conference in Liverpool #ADHD #CAMHS

— Stephen Twigg (@StephenTwigg) October 2, 2013
That all fits in very well with the two conclusions that were drawn from the Cerebra event in Bristol I spoke at last week, which were:
1. Every child with ADHD is different and there is no "one size fits all" solution, and
2. Teachers are woefully lacking in knowledge when it comes to ADHD!
Another speaker at the Liverpool conference was Dr KAH Mirza, who is a psychiatrist based in London and specialising in ADHD in children and adolescents. Dr Mirza told the delegates about an innovative new multi-modal treatment programme he is trialling in Lambeth. For six months following diagnosis with ADHD children are offered psycho-social group therapy to help them understand and deal with their challenges. At the same time parents are invited to join either a specially designed parenting programme or a parent support group and school progress is monitored regularly by phone.
The programme aims to back up medication with a range of activities that will boost the children's confidence and equip them with vital communication, social and problem solving skills. This is achieved through using techniques  as varied as Cognitive Behavioural Therapy, Appreciative Enquiry and mindfulness and is designed to separate the child from the condition and help child, family and school to understand and cope with ADHD rather than just doling out medication. As someone who was shown the door as soon as their child was diagnosed and prescribed Ritalin, without any offers of help or support, I think this approach sounds wonderful and I wish Dr Mirza all the best with it. It's such a shame that a lack of funding and the "postcode lottery" of the health service means services like this are few and far between. As Dr Mirza put it: "Multi modal treatment of ADHD: it's not rocket science!"
One of the things that really fascinated me about the programme is that Dr Mirza "trains the parents to train the teachers". When you think about it, as parents we know our children best, so if we can be taught the best ways for ADHD children to access education, then it seems obvious that we are the best people to pass that knowledge onto the teachers! One of the things I want to try and do over the coming months is to find some way of getting into schools to help teachers understand what ADHD is, what life is like for children with ADHD and their families, and how kids with ADHD can be best helped in school. Watch this space for more news!