The first ever ADHD Inspiration Day took place in Swindon on Saturday 25th October 2014 – and it was a massive success! Over 60 parents, carers and teaching staff came along for the day and heard from expert speakers in a number of areas.  My aim was to inspire and empower parents to better support their ADHD kids and to let them know they are not alone – and that seems to be exactly what happened!
"This event went above and beyond expectation – I had a lovely day!"
During the day there were four keynote speakers: Stuart Black of BrainTrainUK with an introduction to neurofeedback, Dr Hilary Dyer talking about the changes to the SEN arrangements in schools, Andrea Bilbow OBE, the founder of ADDISS, who delivered an amazing presentation on behaviour management programme 123 Magic, and me, talking about my own experience of raising a child with ADHD. The main hall was packed for the speakers, and there were lots of questions when time allowed.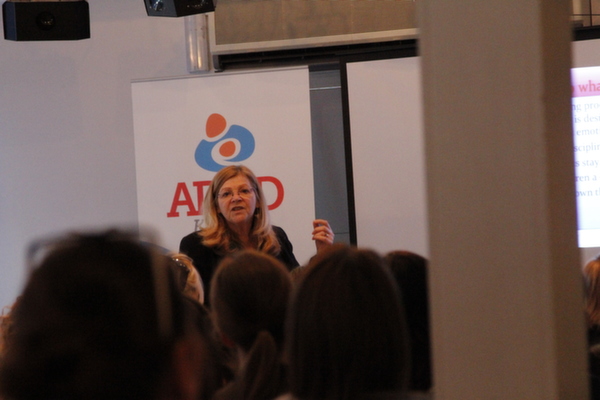 Coffee breaks and lunchtime were a chance for people to catch up with the experts and meet their fellow attendees. The venue was (almost) perfect and while it took a long time to get everyone fed, I think everyone enjoyed the finger buffet and strawberry cheesecake, and the opportunity to chat even more! There was a real buzz about the place as parents exchanged ideas and shared stories with each other. There was also a small exhibition area where they could get information on funding, nutrition and more.
"Really enjoyed the day, met some lovely people and surprised to find other people experiencing the same kinds of issues/behaviours as myself."
In the afternoon there were four workshop slots, with a choice of 10 workshops in all, on everything from nutrition to sleep to education. A late addition to the schedule was a session on managing meltdowns, and the fight for places almost induced a few meltdowns in the delegates (and the organisers!). A practical introduction to meditation and mindfulness proved very popular, as was the demonstration of neurofeedback, a cutting edge therapy that uses the brain's own activity to improve executive skills.
I ran a group coaching session and while the parents who came along didn't really know what to expect, they all went away having gained something from the experience. The session explored stress – what it is, what causes it and how we can prioritise the causes of stress to reduce stress. As well as having some fun with balloons, the exercises created a lot of discussion and "aha" moments for parents.
"Very well put together conference. As an "inspiration" to where to go next on the ADHD journey it was extremely helpful. Nice to meet other ADHD parents too. Thank you."
I rounded off the event by thanking everyone who had been involved and asking for feedback from the delegates so I can make the next one (for there definitely will be a next one!) even better. I also delivered a slightly emotional speech on the Ten Commandments of Parents with ADHD kids, a piece I found online and adapted for the event.
The ADHD Inspiration Day was an incredible experience for me personally- I am so proud of myself for pulling it off! – but more to the point, from the feedback forms and the emails I've received, parents got an awful lot from the event too. Let's not forget to thank the dozens of people who pledged to the crowdfunding project – because otherwise the event wouldn't have been viable and simply wouldn't have happened.
I'll leave the final words to Jane, who attended with her husband on a pair of funded tickets … because I think she sums up the day better than I ever could …
"I can't thank you enough for my two free tickets for today.  Everything was fantastic. It was everything I wanted and so much more … I am so pleased with the information I got, the speakers were great and there was not enough time to talk to everyone! The food was amazing and a lovely bonus to the day. 
I could never have afforded this without your kindness. You have empowered me to keep fighting. Thank you so much for everything."
Keep an eye on the website for details of future ADHD Inspiration Days … and sign up to the mailing list to be the first to know!